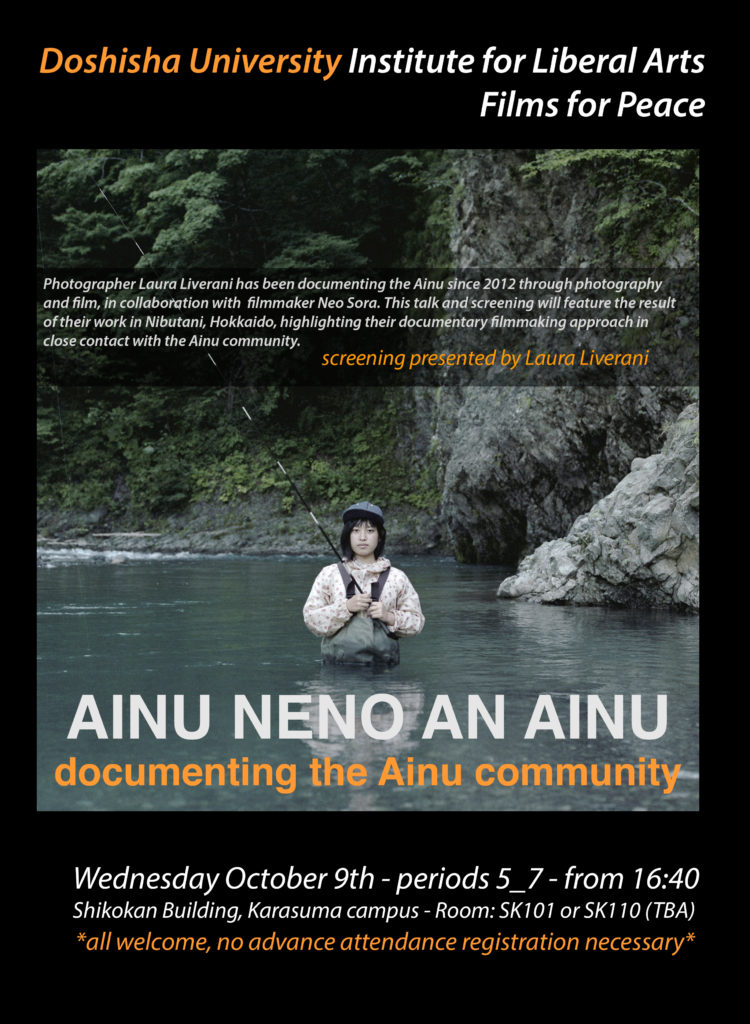 The Institute for the Liberal Arts at Doshisha University will host a guest lecture and screening by Laura Liverani on Wednesday, October 9.
On one of her first travels to Japan, in 2009 – a year after the first official recognition of the Ainu as an indigenous peoples of Japan –  Laura Liverani connected to the Ainu community to start a self-initiated personal photo project. After a few years into the project, she decided to add depth to her documentation of the Ainu by making a film. Since she had no experience in filming, after a couple of fieldtrips in Hokkaido she teamed up with Valy Thorsteindottir and Neo Sora (co-director of the film) to start what she called "a punk band in filmmaking". In 2015 Laura and Neo spent two months in Nibutani, Hokkaido, living with the Ainu community and working on the film. In the meantime Laura continued taking portraits of the Ainu. The result of this experience is Ainu Neno An Ainu: under the same title there is the collaboration film to be screened co-directed by Neo and Laura, and the series of portraits taken by Laura. While the film has not been released yet the photos have appeared in exhibitions, including at the Italian Institute in Tokyo and Japan Foundation, Sydney, and published internationally.
The film focuses on the effort of the Ainu to preserve and revitalise their language and culture, almost effaced after a prolonged forced assimilation. Neo and Laura were interested in collecting the testimonies of the Ainu, their current histories, their memories ,and their future hopes, to understand how the Ainu communities live today, in daily life practices.
Laura Liverani is a documentary photographer, and a lecturer in photography, based between Italy and Japan. Her work is published and exhibited internationally. She primarily photographs lesser known communities: she prefers groups of individuals who get together and form bonds around some cause or principle, sharing a strong sense of group identity and sense of belonging. Working mainly from Japan, she met and photographed senior cheerleaders and models, the Tobi-Shokunin, the Zentai -spandex enthusiasts- and the women sumo wrestlers.